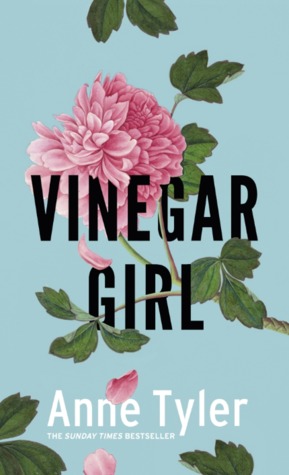 I finished and reviewed
Dunbar
by Edward St. Aubyn, a retelling in modern times of the King Lear story. I have decided to read others in the Hobarth Shakespeare series as well.
Vinegar Girl
by Anne Tyler retells
The Taming of the Shrew.
It
was an enjoyable, light read, basically a love story about 29-year-old Kate, whose scientist father engineered a romance by matchmaking her with his research assistant, Pyotr. Kate is unwilling to help her father - he needs to keep Pyotr in the country to continue his research, and Pyotr's visa is about to expire. Kate's father tries to persuade Kate to an arranged marriage so that Pyotr can legally stay in the country.
How Pyotr manages to win her over is the theme of the story, and Tyler has done a marvelous job with her retelling of Shakespeare's story.
Another book I finished recently was a Greek mystery,
The Lady of Sorrows
by Anne Zouroudi.
Set on a remote Greek island, the plot surrounds the poisoning of a local fisherman and the possible connection to the icon of Our Lady of Sorrows in the local church. There are also questions about the catacombs beneath the church and the secrets kept by some of the colorful local people of the village. The investigator is a visitor to the island, the enigmatic detective Hermes Diaktoros, whom the novel refers to only as the Fat Man. A good plot and an intriguing setting, the book looks at another side of of an otherwise beautiful tourist island.
I have downloaded two of the other books in Zouroudis' Greek Detective mystery series -
The Whispers of Nemesis
and
The Feast of Artemis
.
Visit
The Sunday Post
hosted by The Caffeinated Bookreviewer,
It's Monday, What Are You Reading?

by Book Date.