The Waters and the Wild by DeSales Harrison
Published April 3, 2018; Random House
Genre: literary, mystery
With lyrical prose and masterful plotting,
The Waters & The Wild
is a sophisticated and surprising literary mystery about passion, betrayal, and redemption. (publisher)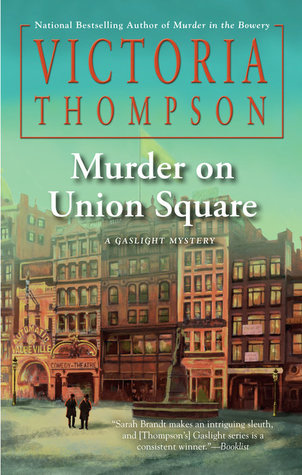 Murder on Union Square by Victoria Thompson
Publication: May 1, 2018; Berkley
Genre: Gaslight Mystery #21
Frank finds himself in an unusual position--the prime suspect in the latest installment of the national bestselling Gaslight Mystery series...(publisher)
The above are the two new books on my desk, and I am eager to read them!
I finished reading:
Sold on a Monday by Kristing McMorris; see my review.
The Lost Family by Jenna Blum
The Perfect Mother by Aimee Molloy
Flat Broke With Two Goats: A Memoir of Appalachia by Jennifer McGaha;
see my review on Goodreads.
Burning Ridge: Timber Creek K-9 Mystery #4 by Margaret Mizushima. The author's husband is a veterinarian, so this must help her write about a deputy sheriff and her police search and detect dog, Robo. A five star mystery, in my mind!
What books are you reading this week?