Books set in snowy winter, which fit the stormy weather we are having right now.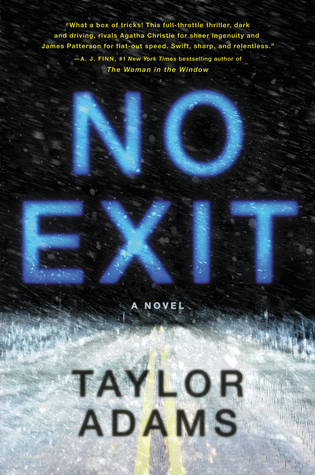 Title:
No Exit
by Taylor Adams
Publication: January 15, 2019, William Morrow
College student Darby Thorne, driving in the wintry, snowy mountains of Colorado, pulls in at a truck stop, unable to drive further because of the tons of snow that have shut down the state highway and back roads. She meets four other people in the truck stop, also stranded for the next day or so before the snow plows can arrive to clear the roads. In the meantime, the snow keeps coming down.
Darby goes outside to her parked car and on the way back spots a small hand of a child through a parked van that belongs to one of the travelers in the stop. She sees a child padlocked in a dog crate in the back of the van, and is too terrified of the situation to say anything to any of the people inside. Instead, she plots a way to free the child and drive her off to safety.
Easier said than done. The next several hours brings surprises that put Darby and the child in danger from not one, but maybe more of the people trapped inside the stop with her. She is not sure who to confide in and her decisions may be the wrong ones.
This turned out to be a hair-raising thriller, with more twists and turns in the plot than I could have imagined. It kept me going on a snowy day when I was myself kept indoors by snow. What a perfect book for the day!
Though the dialogue was a bit stilted, the book carried the day with the plot and action scenes, plus the personality of the tenacious Darby.
Five stars.
The wintry thriller I'm reading next is set in the Scottish Highlands, at an exclusive but remote resort with cabins and a lodge set around a loch surrounded by thick pine trees and forests. The Hunting Party has a setting we are familiar with from Agatha Christie and other mystery writers - a group of people isolated and alone in a hotel or house, unable to leave, and with an unknown killer in their midst.
I can't wait to see who the culprit is, and the motive for murder.
The Wild Inside by Jamey Bradbury is next on my list of winter reads.
This one is set in the Alaskan wilderness with a young girl Tracy, trained to be a trapper and hunter. She is accustomed to being outdoors running with her dogs, but is one day attacked by a stranger, whom she fights off successfully.
When an injured man later shows up, Tracy wonders if he was the one who attacked her.
The Wild Inside is described as a coming of age book as well as a psychological thriller.
It's Monday, What Are You Reading?
by Book Date. What's on your reading list this week?